Press Releases
ParLevel Demonstration at NAMA
9 April 2014
Chicago - Genesi is pleased to congratulate ParLevel Systems on their technology premiere at the 2014 NAMA One Show that begins today at the McCormick Place Lakeside Center in Chicago. ParLevel is an innovative technology provider to th...
Read More
i5 Takes Genesi to China
18 July 2013
San Antonio, Texas, and the Adelson Advanced Education Centre (AAEC) of the University of Macau, Taipa, Macau, China -- Genesi and Baylor University announced Genesi's participation in the 2013 i5 in China program. i5 serves as the moniker for "Immersion In...
Read More
Press archive
Welcome
Genesi turns customer ideas into low-cost, energy efficient, embedded and consumer solutions. Using ARM™ and Power Architecture™ technologies, Genesi relies on an extensive system design process that calls on an array of engineering skills. From the complexities of enclosing a number of integrated circuits into a single package to the development of software applications, Genesi solutions are vertically integrated and designed to be remotely managed throughout a lifetime of use.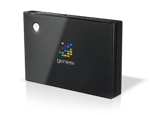 Efika MX Smarttop
Genesi licenses its solutions. Genesi provides the necessary documentation and the support required so that our customers are empowered to manufacture products for their target markets and/or geographic areas as needed. In the case of national network operators, local manufacturing has the goal of developing an economy around the products and services being sold, while progressively enhancing local skills and employment opportunities.
Genesi supports software developer communities through Power Developer and other operating system/distribution specific websites. Genesi also funds and operates power2people, a non-profit organization focused on fostering the development and sharing of information and communication technologies.