Best of Show, Freescale Technology Forum 2005
June 24, 2005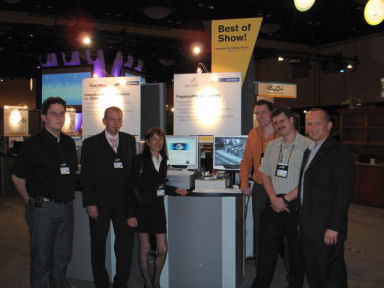 ---
Genesi is pleased to have been recognized as the 'Best of Show' Award winner at the inaugural Freescale Technology Forum held in Orlando, Florida 20-23 June. The Home Media and Communications System displayed was an Open Desktop Workstation modified with the following specifications:
---
Pegasos II with 1GHz G4 processor
1GB DDR RAM
400GB Hard Disk
Dual-Layer DVD±RW Drive
ATI Radeon 9250 graphics
Hauppauge PVR-500 Tuner Card
Audigy 2 THX-certified sound
Ahanix Home Theater chassis
---
The Home Media and Communications System ran an AltiVec optimized version the GNU/Linux distribution Gentoo and MythTV, as well as the standard ODW desktop and a number of OpenGL based games and other communication features. The Home Theater system was demonstrated with the MPC 7447 PowerPC and can be upgraded to the MPC7447A or the recently announced MPC7448.
At the Forum, Genesi also introduced the EFIKA 5K2, a MPC5200 Performance Evaluation Board. Genesi will now work with graphics card manufacturers to optimize the board through the use of the onboard PCI support in order to transition to a smaller two chip board solution targeted at mobile and embedded applications.
The Power Architecture Computing Platform - Scalable, Upgradeable, Flexible - Value, Choice, Freedom
---
Movies

Freescale Keynote Best of Show Announcement, MPEG4 (High 39MB and Mobile 8MB)
Award Presentation, MPEG4 (High 36MB and Mobile 8MB)