ODW Scores 5/5 from Linux User & Developer
September 1, 2005
The UK's leading Linux oriented magazine, Linux User & Developer, gave the ODW a 5/5 Review in the September issue.
---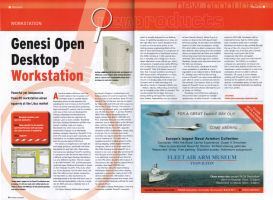 ---
Genesi Open Desktop Workstation
Powerful yet inexpensive PowerPC workstation aimed squarely at the Linux market

Pros: Excellent machine, well specced, good price
Cons: None specific to the product, but PowerPC Linux still lags behind x86 Linux in terms of popularity.
Price: US$799 (approx. £456)
Rating: 5/5


---
You can download the full article here (PDF, 3.7MB). Terra Soft Solutions and Genesi were also featured in the August edition of Linux User & Developer.
This review is made available on this site through permission by Linux User & Developer, a United Kingdom corporation that maintains full international copyright and ownership of all content contained herein. This site and the associated PDFs are offered for personal download and viewing only. No portion of these PDFs may be distributed nor reproduced without express written permission by Linux User & Developer.
It is encouraged that you visit your local book seller to obtain a copy of this and other Linux User & Developer printed publications.