i5 Takes Genesi to China
July 18, 2013
San Antonio, Texas, and the Adelson Advanced Education Centre (AAEC) of the University of Macau, Taipa, Macau, China -- Genesi and Baylor University announced Genesi's participation in the 2013 i5 in China program. i5 serves as the moniker for "Immersion Into International Interdisciplinary Innovation," and is Baylor University's flagship program for technology commercialization. It combines the disciplines of Business, Engineering, and Intellectual Property Law with a proven process, creating a powerful technology commercialization accelerator.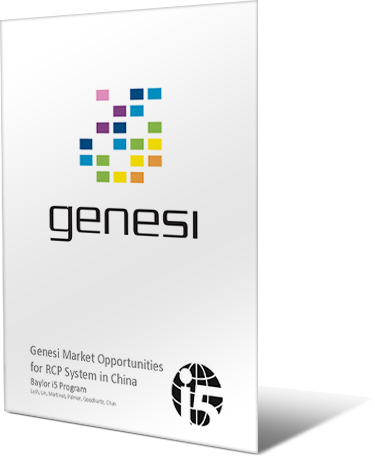 Genesi will be working with a project team from i5 to bring its technology license practice to China. The i5 project team from i5 includes business, engineering and law students, and industry experts. Genesi is a sponsor of Baylor University programs, beginning with the Hankamer School of Business Strategy Plan Challenge in 2011. During the last six years, the i5 program has assisted both U.S. and Chinese companies identifying opportunities for commercialization in overseas markets.
"We are looking forward to working with the i5 Project Team," said Raquel Velasco, Chairman of Genesi. "Today's students have a science and technology insight that make their efforts invaluable. In addition, the business savvy and global cultural competence of the SuperCoaches make this program a great opportunity for us. We are very happy to sponsor the program."
"Genesi's technology license model represents a new wave of computing platform development," said Bradley Norris, Director of Baylor i5 in China. "Genesi's work to bring new packaging technologies into complete system designs including firmware and software are very likely to attract significant attention."
The 2013 program includes students from Baylor (School of Engineering & Computer Science, Hankamer School of Business, and Baylor Law School - Intellectual Property Law), University of Shanghai for Science and Technology, University of Nottingham, Petra University, and University of Macau. The Program culminates with an Innovation Summit between Chinese and US business leaders as well as academic and government representatives in Beijing on August 5-6, 2013.
---
Download: Final i5 Report (PDF)
---
About Baylor i5
The i5 program is built around a proven curriculum for technology ventures. It is designed to create an environment for students to develop science and technology insight, business savvy and global cultural competence. Students apply for different roles on an i5 team according to their interests and academic qualifications.
---
About Genesi
Genesi licenses, markets and sells the Efika MX technology. Efika MX products are based on NXP i.MX multimedia application processors. The Efika MX technology provides an extremely versatile and durable platform that is silent, small, inexpensive and energy efficient with no moving parts. The Efika MX platform and open source software reduce information technology costs and help create local skills and employment in the markets where the products are licensed and produced.