Aura Platform™
The Aura Platform™ begins as a bootloader that can be used to bring-up a board and to rapidly prototype a system as a standalone application.
Advanced features include a runtime abstraction layer and standard interface for application level services in a simplified, secure environment. The benefits include lower overall cost for system development and faster time-to-market.
---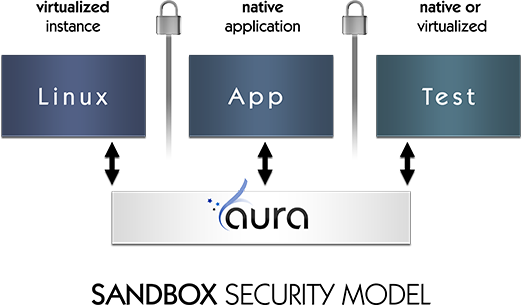 ---
Features include:
Abstraction separates hardware development from system/application software development

Device drivers are located within the Aura Platform™ allowing for faster platform bring-up

With a micro-kernel, segmentation between OS and applications can decrease security risks
Proprietary hardware interfaces are protected inside the Aura Platform™ binary driver code

Driver interaction that is well structured, tested, and maintained

VM capability can be architecturally built-in to provide secure multi-application environments

Provides quick hardware migration capability (at EOL, or through performance upgrades)
The Aura Platform™ can support both the evolution of a single product or a family of products by providing a standard interface to both hardware and software developers over the lifetime of use.