MySQL Development Team supports Pegasos Server
November 30, 2004
Uppsala, Sweden -- With the support of the Genesi/Freescale PegasosPPC Pilot Project, the MySQL core development team has received a full complement of PowerPC-enabled Open Desktop Workstations. "We are excited about this new alternative platform. Sony Europe's success with MySQL on Pegasos has opened our eyes to its potential. We are pleased to be able to offer our internal resources support for this platform," said Mika Asikainen, MySQL's Partner Manager.
---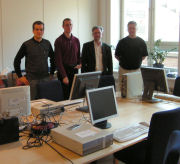 ---
When it delivered the machines, Genesi provided a orientation seminar - including a focus on the use of AltiVec. MySQL AB intends to provide benchmark results that will help demonstrate Pegasos' superior watt/cycle efficiency and how MySQL database deployments on the platform can reduce organizations' total cost of ownership.
Genesi is a Certified MySQL Partner and a Platinum Sponsor of the MySQL Users Conference 2005.