Technical Resources
Efika MX Developer Edition v2.0

This product is no longer for sale and has been replaced with the
Efika MX Open Client.
---
The Efika MX Developer Edition is a small, light and highly energy efficient performance evaluation board targetted at system developers and creators of embedded solutions.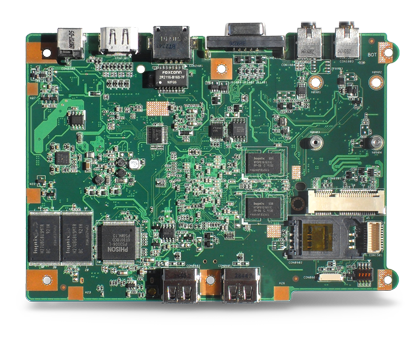 The board represents a validated, tested pre-production run of the Efika MX Open Client product without the housing and may include wire fixes to the PCB to solve late-breaking issues.
The specifications are as follows:
NXP i.MX515 ARM Cortex-A8 SoC (800MHz)
2D & 3D Graphics Processing Unit
OpenGL ES 2.0 and OpenVG 1.1 hardware accelerators
Multi-format HD video decoder and encoder
512 MB RAM
Wireless LAN (802.11 b/g/n)
Bluetooth module
VGA and HDMI display
2x USB 2.0 ports
Audio and Microphone jacks
SDHC card slot & MicroSD card carrier
Serial and JTAG developer board