PegasosPPC Platform
This product has been discontinued.
---
Using a modular motherboard design, the PegasosPPC Platform can be easily upgraded to fit your needs and demands. Using standard interfaces it enables the use of commodity components such as ATA hard drives, DDR memory and CD/DVD writers, as well as USB and Firewire peripherals.
The removable Power Architecture processor card allows the use of compatible processors from IBM and Freescale which utilise the standard "60x" and "MPX" bus configurations. Currently offered are 600MHz G3 (750CXe) and 1GHz G4 (MPC7447).
---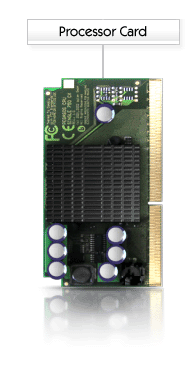 The PegasosPPC Platform is based around the Pegasos II motherboard:
Micro ATX form factor (236mm x 172mm)
IEEE 1275 Firmware/boot interface
Marvell Discovery II (MV64361) System Controller
G3 or G4 Power Architecture CPU
184-pin 266MHz DDR RAM sockets
1x AGP slot
3x PCI slots with riser connector
2x ATA100 IDE Channels
3x IEEE1394 ports (400Mbit)
3x USB 1.1 ports (12Mbit)
Gigabit and 10/100 Ethernet
AC97 Audio Subsystem
Stereo audio
Microphone
S/PDIF optical output
PC Gameport/MIDI
IrDA, Serial (RS232), Parallel (IEEE1284) and PS/2 (Keyboard & Mouse)
Floppy drive connector
| | | |
| --- | --- | --- |
| Software | Processors | System Components |
| | | |
| --- | --- | --- |
| The PegasosPPC Platform's defined hardware abstraction layer and IEEE 1275 Firmware implementation allows operating systems and applications to be ported quickly and easily with full hardware support. | | |