Genesi Adds New Products
December 3, 2005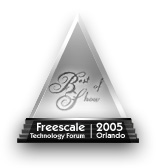 Genesi is pleased to announce the availability of the award-winning Genesi Home Media and Communication System. There are a number of optional features available on request.
Genesi's Director, Open Source Software, Pieter Van den Abeele commented on the release, "We are selling the customer a box optimized to run MythTV, not a software experience like Mac OS X or Windows Media Center Edition. We are assembling existing open source components into a whole. We think this is something the open source software /community will appreciate. We would like to see people with the Genesi Home Media and Communication System build their own versions of the software. We hope to create a cycling effect of innovation and improvement in the software around the hardware. By building a /community we build a market that is attractive to VAR, for example we are looking forward to Terra Soft Solutions selling their version of this product soon." For those not interested in developing their own software the Home Media and Communication System comes ready to go with software built over an AltiVec optimized version of Gentoo Linux.
Also of note, the recently announced EFIKA 5K2 board is available with a minimum order of 50 units. The boards include the Pegasos HAL/OF implementation and run the software currently available on the Open Desktop Workstation.
---
Movies: Home Media & Communications System
---
Movies: EFIKA 5K2