Genesi announces 970MP development; joins Power.org
September 26, 2005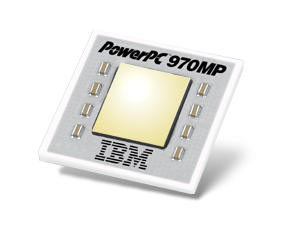 Genesi is pleased to announce it will develop a dual 970MP based platform to be designated as the "Open Server Workstation" directed at the numerous PowerPC development communities that have sprung up around Genesi's successful Open Desktop Workstation. The Open Desktop Workstation was recently reviewed and awarded a 5/5 by Linux User and Developer Magazine.
IDC estimates that the server market overall is growing at around 5%, while the blade server market will grow even faster, reaching $6bn by 2007 and $9bn by 2008. Genesi's next hardware release, scheduled for Q4 2005, will be a blade design that provides for a single or dual G4 option that can be further customized with a range of CPU frequencies up to 1.7GHz per CPU, depending on the target requirements. The maximum customized density using two "high density blades" per slot in a 16 slot chassis will allow for 896 CPUs in a double-sided 42U rack configuration.

Concurrently, Genesi announced that it has joined Power.org. The Power.org mission is to develop, enable and promote Power Architecture technology as the preferred open standard hardware development platform for the electronics industry and to administer qualification programs that optimize interoperability and accelerate innovation for a positive user experience.
"IBM welcomes Genesi's addition to Power.org as another important Ecosystem provider for the Linux on Power development /community," said Nigel Beck, Vice President of Technology Marketing, IBM and Chairman of Power.org.
---
Related Links

Power Architecture technology accelerating beyond IBM (IBM.com)
Power.org in Shanghai (Power.org)
PenguinPPC.org
---
About IBM

IBM is the world's largest information technology company, with 80 years of leadership in helping businesses innovate. IBM is the leading server vendor in the world. For more information about IBM, visit www.ibm.com.