Genesi Store Updates
November 6, 2006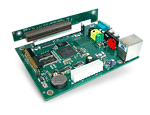 The Efika 5200B micro-motherboard is now available on the PegasosPPC.com store in single-unit quantities. The retail price is $199 - please contact the sales team for reseller and bulk discounts.
---
Genesi regrets to announce that the Pegasos G4 motherboard, CPU cards and the Open Desktop Workstation have sold out and have been discontinued. The company hopes to replace this product line with the Pegasos 8641D in the near future. A program for early-adopters and developer support based around Freescale evaluation and reference design for this processor is up and running on Power Developer.
We would like to thank all of our customers for their continued support and sales of the Pegasos G4 during it's lifetime.
---
Genesi also notes the availability of evaluation systems for the dual-chip 64-bit TetraPower 970MP platform. OEMs, VARs and ISVs are invited to evaluate the product with a view to sales in the server, cluster and high-performance computing sectors. The final TetraPower motherboard consumer release and future development of the product will be determined as a function of market interest and sales generated by this evaluation program.